Here, we will introduce the YAMASHIN filter mask / YAMASHIN filter sheet
developed by a filter manufacturer.
Please be aware this page will be updated from time to time.

Introduction Movie (Japanese)
YAMASHIN-Filter Mask - born from years of specializing in filtration products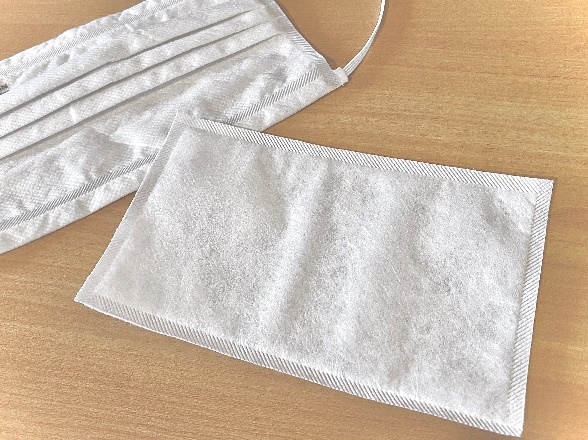 Founded in 1956, "Yamashin Filter Mask" combines the technologies of filter manufacturing. The synthetic polymer nanofiber "YAMASHIN Nano Filter ™" is a mass-production technology developed by YAMASHIN FILTER CO., LTD. (Patent pending). YAMASHIN made these masks using the materials used for hydraulic filters for construction machinery. The ultra-fine fibers have small holes to catch foreign substances such as viruses, and because they are not charged with static electricity, high performance continues for a long time.

Performance of "YAMASHIN- Filter Mask"
YAMASHIN conducted comparative testing between our filter mask and other products including N95 mask.

<Experiment Test Video video1>
General surgical masks and cloth masks easily pass dust (1 μm diameter) but, in contrast with this, our products or N95 compatible products are proven not to pass dust (1 μm diameter) by the experiment.
<Experiment video2>
Attaching our nano filter sheet to the inside of the mask, general surgical masks and cloth masks will also not pass dust.
Results of comparative test results
<Video1> Our filter mask and N95 compatible mask do not allow fine dust to pass through.
<Video2> General surgical masks and cloth masks will also not pass dust by using our Filter-Sheet.

Comments on performance of each mask
1.YAMASHIN-Filter Mask
As shown in the video, this test shows YAMASHIN-Filter Mask has almost the same efficiency as N95 masks, in contrast to general disposable non-woven masks or cloth masks.
Using our nanofibers with extremely fine diameters* can remove fine dust by subjecting the fibers to electrostatic treatment system.
In addition, the fiber has a small diameter, but has a structure with low ventilation resistance, so that even if the mask is attached to the mouth, it does not cause suffocation.
Also, the dust seen in the middle part of the movie is caused by dust that did not enter the test device leaked from the device so, it does not show any deterioration of their performance.
*(200-800 nanometers)
2.N95 Mask
The diameter of the main fiber of the N95 mask is a multilayer structure in which multiple sheets are stacked and it has a relatively thin structure, so the mask has high filtration accuracy. Therefore, it achieves superior performance that is different from general surgical masks and high-precision masks. Regarding the point that dust seems to leak slightly from the mask, it is not the leak from the mask but the leak from the joint between the device and the seal tape used when joining the mask.
3.General Surgical Mask
General surgical masks have coarse fibers because of a large fiber diameter and it does not have a multi-layered structure. Therefore, dust is leaking from the mask from the initial stage.

4.Cloth mask
This is a mask that is rougher than a general surgical mask in the state where just a piece of gauze with a very large mesh of fibers is piled up so, it can be confirmed from this video that a lot of dust is leaking from the mask.
5.General Surgical Mask + YAMASHIN-Filter Sheet
Although dust is slightly leaking from the mask surface, it is very small compared to the amount of leakage only with the general surgical mask, from that point, we can see the high precision of the fibers in the YAMASHIN-Filter sheet.
6.Cloth mask + YAMASHIN- Filter sheet
A small amount of dust leaks from the mask surface, likewise a general surgical mask + YAMASHIN-Filter sheet, but it is kept to a very small amount, and the effect of the YAMASHIN-Filter sheet can be seen, compared to the cloth mask.
Overview of mask performance comparison experiment
From the above results, the following two points can be analyzed.
1. The YAMASHIN-Filter Mask has performance equivalent to or better than the N95 mask.
2. It can be used with a filter sheet to achieve high performance, even if a general surgical mask or cloth mask.
We strongly hope that widespread use of high-performance filter masks and filter sheets by medical personnel and others will reduce anxiety about health hazards.
We strive to provide this as a representative manufacturer of filtration products.
Outline of mask performance comparison test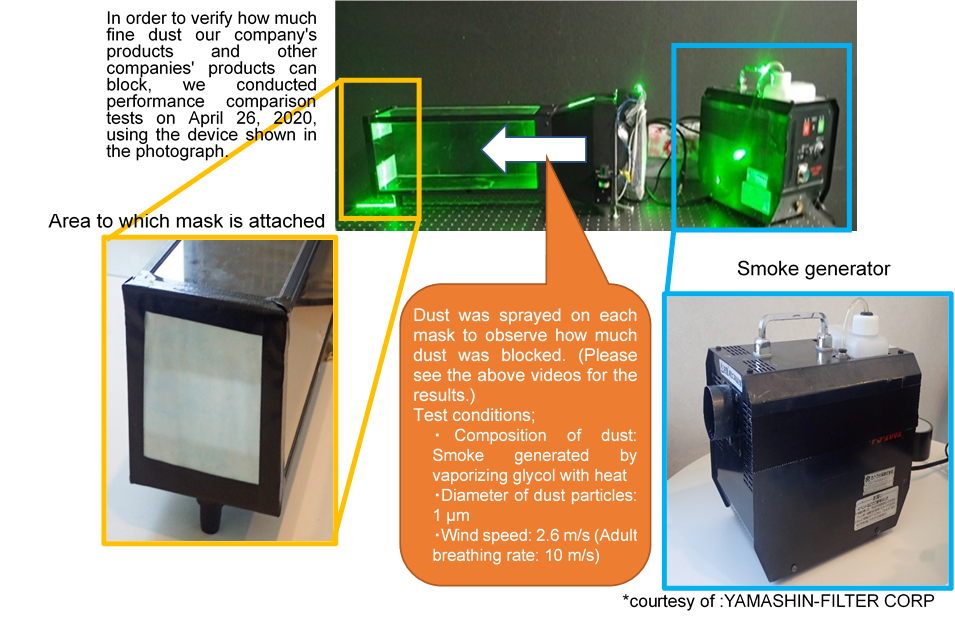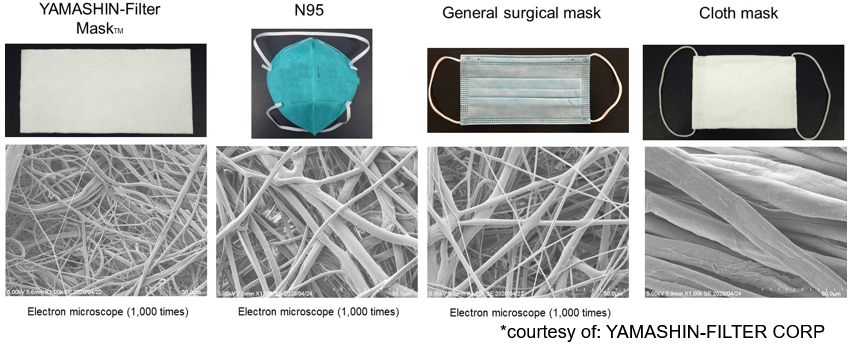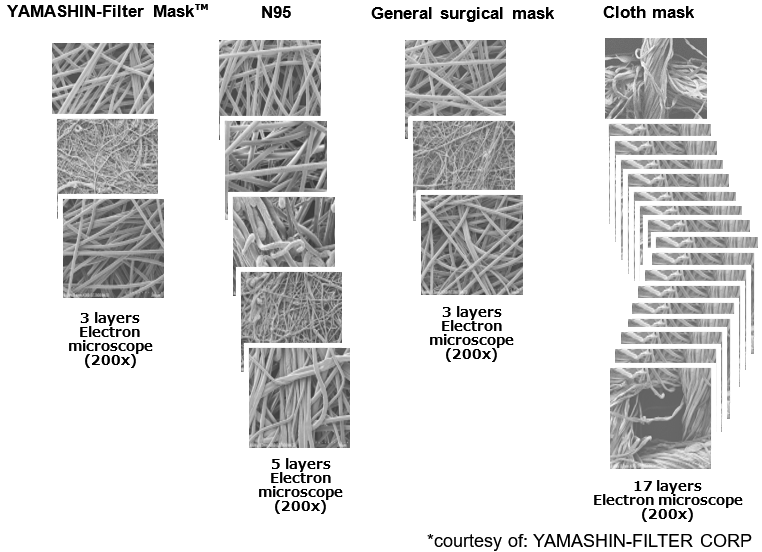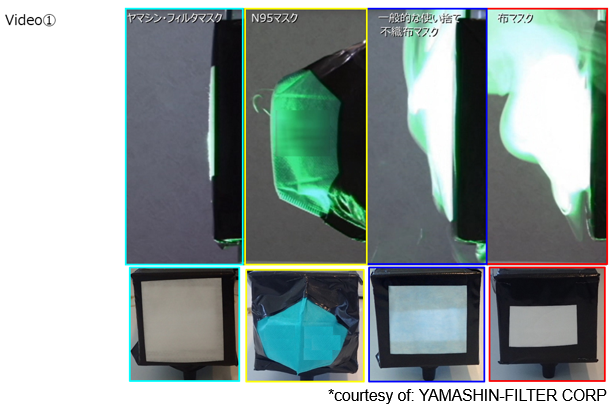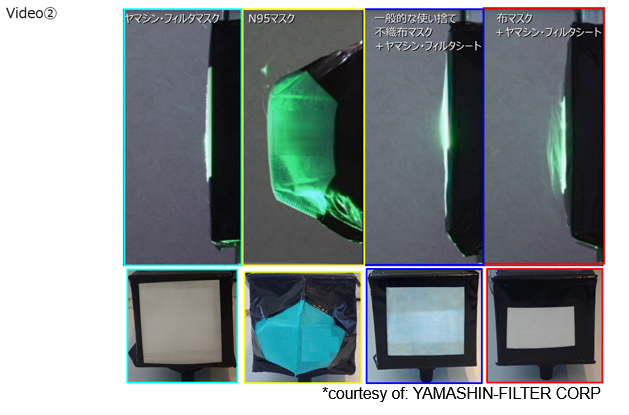 The features of YAMASHIN-Filter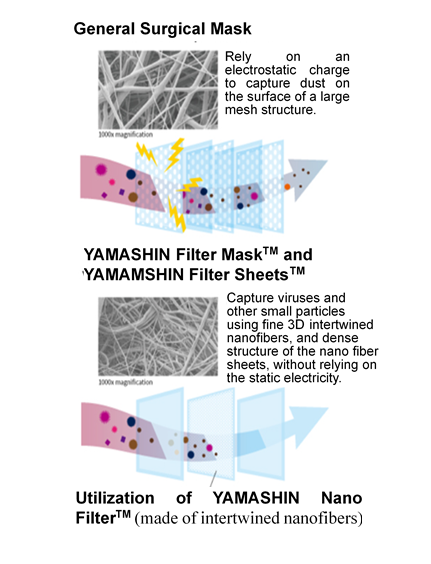 <Point 1 Achieves high collection performance with ultrafine fibers with a three-dimensional structure>
"YAMASHIN Nano Filter ™" has a nano-sized fiber diameter of 0.2-0.8 micrometers and has a cotton-like structure in contrast to the chemical fiber used in general mask filters has a flat (two-dimensional) shape with a fiber diameter of about 3 micrometers.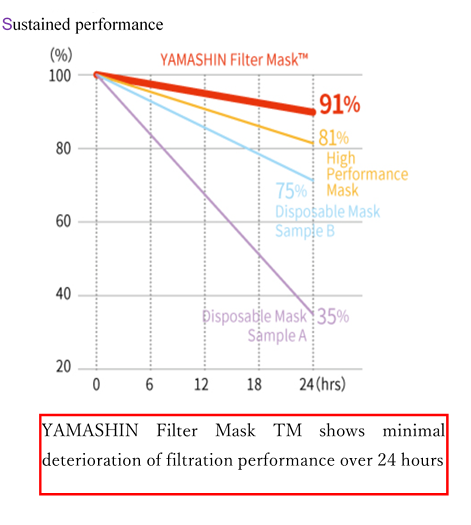 <Point 2 Performance degradation is slight even after long-term use>
In addition to the fact that a general disposal mask with electrostatic charge has lower collection efficiency, the performance of the general disposal mask deteriorates by approximately 65% at lowest after being worn for 24 hours due to exposure to moisture in the air breathed out as well as a long period of use. Our YAMASHIN-Filter Masks only show approximately 9% deterioration in collection performance since it collects particles by its high-density structure at the nano level.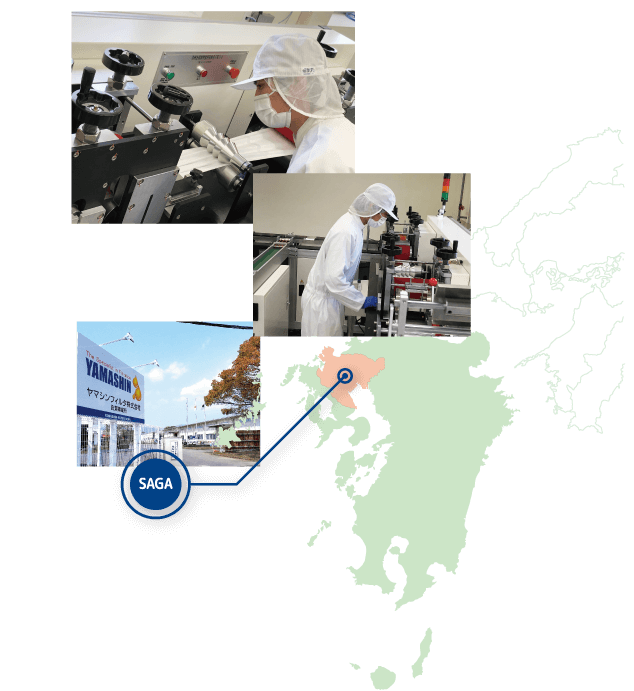 <Point 3 Secure stable supply by producing in Japan>
Although 80% of the masks supplied in Japan are currently manufactured overseas (*), our YAMASHIN- Filter Masks are manufactured at our own factory in Saga Prefecture. Therefore, a stable supply is possible regardless of overseas conditions. Also, unique technology cultivated by construction machinery filter manufacturers that require high filtration accuracy is possible to manufacture sheets with uniform thickness.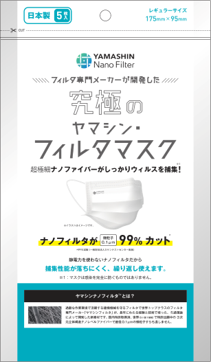 | | |
| --- | --- |
| Product name | YAMASHIN-Filter Mask |
Material

PP

(polypropylene)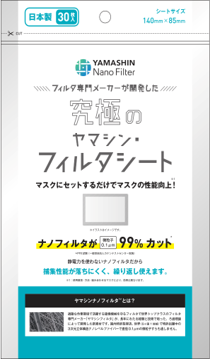 | | |
| --- | --- |
| Product name | YAMASHIN-Filter Sheets |
| | |
| --- | --- |
| Size | Width 14 cm x Length 150 cm |
Material

PP

(Polypropylene)
How to use

Cut the sheet to about 14 cm
Fit a sheet between the mask and face and set it so that it covers your nose and mouth.
Partnership company
Introduction of our partner companies that handle Yamashin Filter Mask related products.

Yuzawaya Trading Co., Ltd. List of stores
KONAKA Co., Ltd. Online shop

Online shop
Q&A
Q1 How do I use the Yamashin Nano Filter Sheet?
A1 Please cut it out to your desired size (vertical 80 to 100 mm) and place it on the inside of your mask so that the sheet covers the nose and mouth.
Q2 Can it be used repeatedly? How long can I continue to use it?
A2 The fabric can be pressed and washed and can be used repeatedly.
Regarding the Yamashin Nano Filter Sheet, if you sew the four sides of the cut sheet, you can prevent it from losing its shape due to washing. In our test, we have confirmed that the product can be used with little performance degradation even after repeated washing 5 times.
Q3 How should I wash?
A3 Please add a small amount of neutral detergent for washing to lukewarm water , wash gently and, rinse thoroughly with tap water. Shape it and dry it in the shade.
Q4 Is there a guideline for replacement?
A4 If you notice fluffing of surface fibers or peeling between sheets, we recommend replacing them.
For other inquiries, click here 
Please note that depending on the content of your inquiry,
it may take some time to reply and we may not be able to reply.
We will respond to inquiries received on our holidays: Saturdays, Sundays, holidays, summer, year-end and New Year holidays from the next business day.
<The handling of personal information>
We will never disclose the personal information you provide to the outside.
Please check "Personal Information Protection Policy" for details.