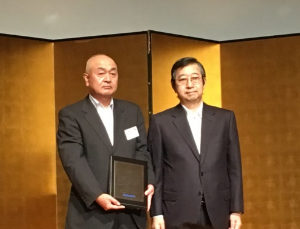 We received the "GRAND PARTNER" award from KOMATSU Ltd. (hereinafter "Komatsu"). This award was presented to us in appreciation of our "substantial cost improvement through the logistic and supply chain improvement" as well as our "exhibition and proactive training of service personnel in promoting the superiority of genuine products overseas", which leads to overseas sales expansion of hydraulic filter's spare parts. In cooperation with Komatsu, we held seminars to explain the effectiveness of genuine products to customers mainly in China and South East Asia regions. Our cooperation was highly appreciated by Komatsu.
The award was presented by President Ohashi from Komatsu on the award ceremony, which was held on May 20, 2016.
With this award, we strive to further improve customer satisfaction and corporate value by providing high quality products and services in filtration business.