As we evolve into a comprehensive filter manufacturer, we will leverage the strengths developed through our filter business to help address social challenges related to "environment," "air quality," and "health".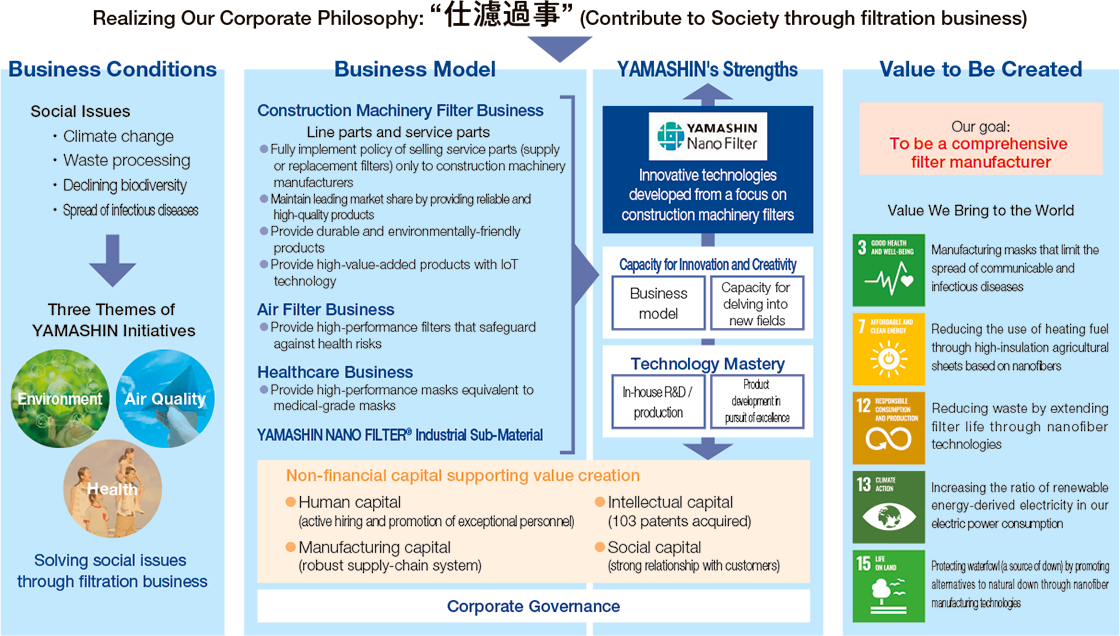 With global efforts to achieve the SDGs, and the spread of the COVID-19 pandemic, our company has established three themes of "environment," "air quality," and "health" for our focused areas related to SDGs. We are also strengthening our efforts in our medium-to-long term goal, which is to "transition from a company specialized in construction machinery filters to a truly comprehensive filter manufacturer: the YAMASHIN Paradigm Shift". We will continue to actively make contributions to achieve a sustainable economy and society by working vigorously to develop high-performing products, which include our recent healthcare products, or masks that differ from those of other mask manufacturers.
As the follow-up to the Millennium Development Goals (MDGs) formulated in 2001, the Sustainable Development Goals (SDGs) are international goals for the years 2016 to 2030, described in the 2030 Agenda for Sustainable Development adopted at the United Nations Sustainable Development Summit in September 2015. The SDGs consist of 17 goals and 169 targets aimed at achieving a sustainable world.
The three themes of environment, air quality, and health that we tackle through our filter business are closely related to the goals of the SDGs. In order for our company to contribute to achieving the SDGs, we believe that it is important to take action as a company on social issues by reviewing and evaluating the strengths and foundation of our business model.
By adhering to our corporate philosophy of "仕濾過事" (Rokajinitsukafuru) or "Contribute to society through filtration business", advancing into new business areas, growing into a truly comprehensive filter manufacturer, and contributing to solving social issues, we seek to achieve a sustainable world.