Two types of filters are used in research labs that handle animals: those that prevent external dust, microbes, and offensive odors from entering the lab, and those that prevent foreign materials and offensive odors from escaping the lab. The former are further categorized according to their ability to remove dust. The latter includes filters that are used together with an odor absorber such as activated charcoal. Filter performance is verified using a device such as a differential pressure gauge. In consideration of the area around the facility, odor elimination and noise-suppression systems are installed on the exhaust side. Also, intake and exhaust points are not located on the same side of the building.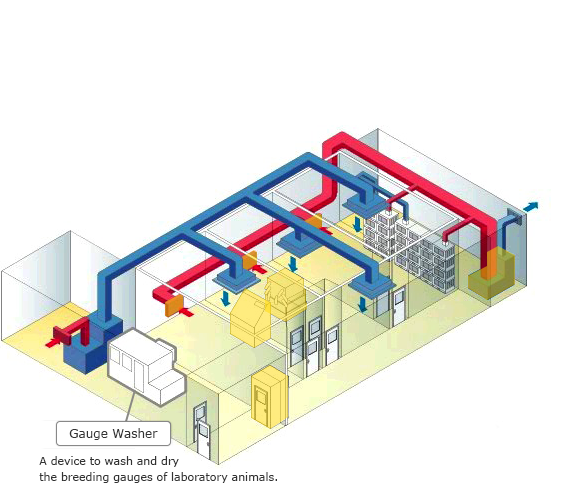 Air Handling Unit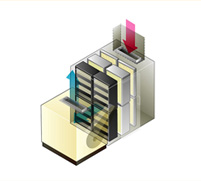 An Air Handling Unit (AHU) consists of air blowers (fans), heat exchangers (coils), humidifiers, air filters and a casing. AHUs are primarily used in large air-conditioning systems.
Types of available air filters
Air Intake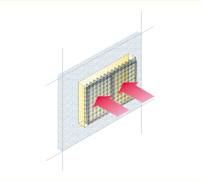 This device is installed at the end of return-air and exhaust ducts on the room side to take in air for the purposes of air return, exhaust, or ventilation.
Types of available air filters
Air Shower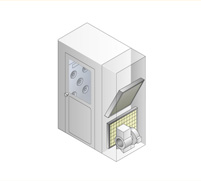 This device uses high-speed purified air to remove dust and other particles adhered to the surfaces of people and objects before they enter the clean room. This prevents contaminants from entering the controlled clean space.
Types of available air filters
Safety Cabinet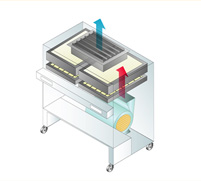 This device exhausts air through a filter, maintaining a negative pressure on the workspace and preventing aerosols generated during experiments from escaping to the outside.
Types of available air filters
Isolator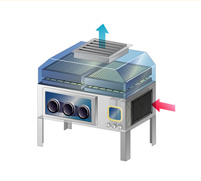 This device is used for purposes such as breeding germ-free animals and experimenting on animals with high-risk infections. Air filters are attached to its intake and exhaust sections.
Types of available air filters
Clicking on a product image above will direct you to the corresponding product page on the AQC website (Japanese).